Hi
There has long been some thought and discussion about creating an online calendar for the whole village. The concept is that each group (eg Boules, Hort Soc, Community Chest, Compost, Shop, school) would have their own calendar, over which they would have control. And then all the group calendars are combined into one "Wellow-wide calendar. This one calendar would show the collective calendars of the groups, but would allow users to choose which particular calendars to look at.
I have worked out how to do this with google calendars, and set up a demo.
I have set up a Hort Soc calendar – see 
http://hortsoc.wellow.org/index.php/events/
 -ie on the Hort Soc website –  scroll to the bottom to see the Hort Soc calendar. The Secretary of the Hort Soc has set up the events for the Hort Soc – eg. the next one is the Plant Sale on May 12th. On the same basis we could set up calendars for, for example, Wellow Boules, the Community Chest, Wellow Recreation and the Village Hall. … So I have set these up as demos, although there are no events entered. See 
http://www.wellow.org
 At first sight you will see the combined calendars of all the groups mentioned above. But you can choose which calendar(s) you want to view eg to view just the Village Hall click on the down-arrow on the top right of the calendar (as below) and un-tick all the others.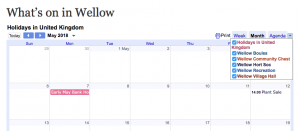 What do you think? Do you think the concept is good?  Anyone know of a better way of doing this? Please comment!
Thanks
Hugh